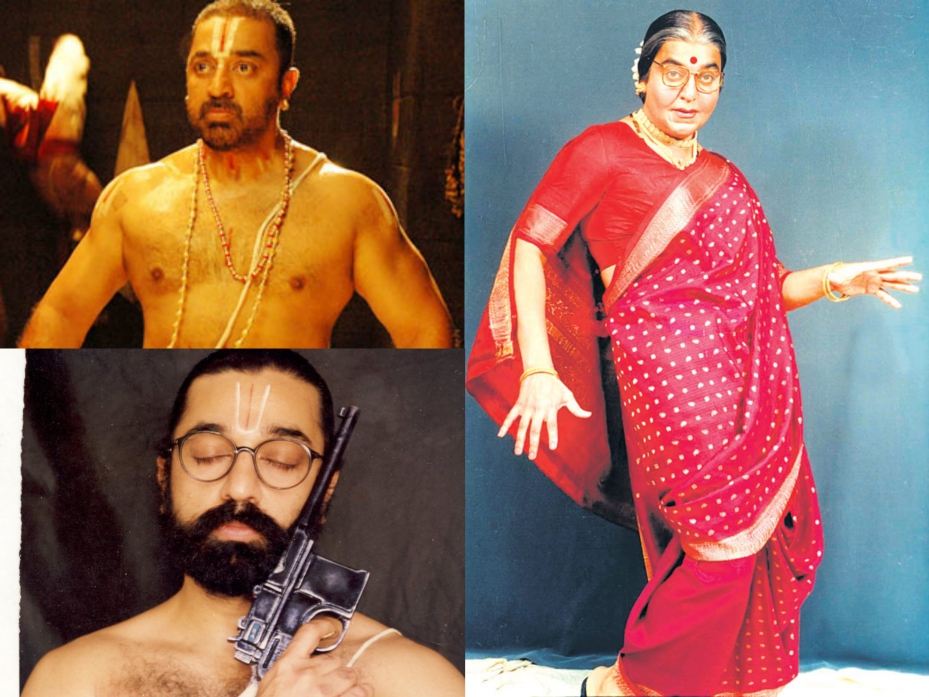 Kamal Hasan was born on November 7, 1954, in Paramakudi, Tamil Nadu, he showed keen interest in films and fine arts which led to his first film Kalathur Kannamma as a child artist.
After assisting director K Balachander and doing various supporting roles, Kamal got his first big break as hero in K Balachander's Apoorva Raagangal. But what has impresses us the most is the way Mr Haasan experiments with his roles and his looks. Over the years, the Thoongaavanam actor has mesmerised us in many avatars. On his birthday we bring you 5 best onscreen looks of Kamal Haasan:
[wp_ad_camp_3]
Apoorva Sagodharargal/Appu Raja
Kamal Haasan has been experimenting with variety of films ever since his the inception of his filmi career.
But his portrayal of dwarf Appu in
Apoorva Sagodharargal
was commendable as he surprised the audience by pulling of the role to perfection. The actor had taken painstaking efforts to play the role of dwarf convincingly, leaving everyone amazed as to how did a grown man turn into midget.
Avai Shanmugi/Chachi 420
Ever since the advent of theatrics, men have been playing woman on stage. While over the years we have seen some sloppily dressed drags by actors, it is the stupendous makeover of Kamal Haasan as drag queen in Avai Shanmugi/Chachi 420 that stays with you.
Backed by some amazing makeup work, Kamal pulled of the role of old woman with such panache, even mastering the mannerisms of an elderly lady.
Aalavandhan/Abhay
In the year 2000, Kamal Haasan underwent a scary makeover in Aalavandhan/Abhay, where he played double role of a cop and a criminally insane patient. For his role of psychopath, not only did Kamal shave his head but also beefed up his physique to personify an intimidating character onscreen. Donning some gruesome makeup, Kamal Haasan managed to give sleepless nights to many people.
[xyz-ihs snippet="money12″]
[xyz-ihs snippet="inter12″]
Anbe Sivam
In this gem of a film, Kamal Haasan starring along with R Madhavan, plays the role of an accident survivor with visage filled with scars and boils. Mr Haasan gave an award winning performance of a cripple, who knocks some sense into the mind of an arrogant ad filmmaker played by Madhavan. His makeup for the role was applauded from all sections of the audience as well as critics.
Dasavatharam
When we are talking about Kamal Haasan's love for image makeovers, how can we forget KS Ravikumar's Dasavatharam where the Viswaroopam actor played not one or two but ten different character. Loaded with makeup and prosthetic, each character in the film looked extremely different from the other, leaving the audience in awe. Kamal played characters from varying backgrounds, age groups and ethnicity, with roles varying from that of an 90 year old devout woman to an ex-CIA agent.
[wp_ad_camp_4]